The Cartessa® Subnovii™ Plasma Pen
Images courtesy of Cartessa® www.cartessaaesthetics.com
Fibroblast skin tightening or plasma pen technology is relatively new to the aesthetic industry in the U.S. but has been popular in Europe for quite some time. It's quickly becoming the "go-to" nonsurgical treatment for Plastic Surgeons and Dermatologists alike for the effective treatment of wrinkles, loose skin, and skin lesions.
What is a Plasma Pen or Fibroblast Treatment?
Plasma Pen technology targets deep-set creases, areas of loose skin, as well as scars and small lesions by heating the skin with a small electrical charge. Surprisingly, the device never touches your skin directly – it uses the voltage in the air between its tip and the natural gasses emitted from your skin to form a plasma charge. 
The plasma energy lightly ablates the surface of the skin and stimulates your body's own natural healing process. This process stimulates fibroblasts within the inner part of your dermis– the part of your skin responsible for creating collagen and elastin, or that supple and rubber band-like quality.
What Can the
Subnov ii Plasma Pen Treat?
Areas that can be effectively treated with the plasma pen are:
The under eyes and excess upper eyelid skin
Crow's feet around the eyes
Skin imperfections – skin tags and sunspots
Acne scars, stretch marks, and other scars
Loose skin on the abdomen 
Nasolabial folds and smile lines
Jowls & Jawline tightening
Forehead lines & creases
Brow lifting and shaping
Neck lines or "turkey neck"
"Smoker's lines" around the mouth
Images courtesy of Cartessa® www.cartessaaesthetics.com
Why Are Fibroblasts Important?
As we age, collagen and elastin production in our body starts to decrease – even at the young age of 20, the dermis layer of our skin is producing 1% less collagen every year that we age. When you stimulate these fibroblasts, they spring into action – repairing tissue damage and recreating collagen.
Fibroblast treatment can:
Encourage the formation of a new skin surface
Improve the elasticity and suppleness of the skin
Stimulate the production of your own human growth factors
Benefits of the Plasma Pen
Some of the best aspects bout having a Subnovii treatment are:
No needles – an injectable anesthetic is not required
No cutting, piercing, or open wounds on the skin
No stitches or scars to cover with dressings 
Very low risk with minimal downtime
Long-lasting results
Fast healing time
What is a Subnovii Treatment Like?
Roughly 45 minutes after a topical numbing cream is applied, the Subnovii handheld tool is passed over the treatment area slowly, hovering just over your skin. Small pulses of energy create tiny wounds in the skin, leaving behind small polka dot-like scabs (also known as "carbon crusts") that fall off in roughly 5-10 days. You may feel some heat in the area; however, the treatment is comfortable and very tolerable. Some mild swelling can be common in the area immediately after treatment and may last for a few days.
We Would Love
to Meet You!
The first step is to request a consultation or appointment. Please fill out the form on this page or call us directly to get on the schedule. You can call our main office at
(267) 899-5020.
We strive to always provide 5-star service for every patient.
My experience was awesome. Bright, clean and new facility. Super friendly staff who helped me choose a treatment that worked for me. I strongly recommend to give them a try even if you haven't had a facial in years (like myself ). Definitely be back !
I was amazed as soon as I stepped in. Extremely friendly all while maintaining professionalism. It was my first time and they were very thorough with explaining the steps and what to expect with the lip fillers I wanted. They had me feeling like I was on top of the world with endless compliments and small talk. They turned my lips from being my biggest insecurity to now being my favorite thing to show off!
About Novique Medical Aesthetics
Inna wanted to introduce a comprehensive medical aesthetics spa that redefined a personalized approach to clients' beauty and wellness goals. Novique brings only the best state of the art equipment to their clients. The Novique team is continuously researching and learning the newest and cutting-edge non-surgical treatments. Inna believe everyone should only be treated by the best, so the Novique team led by Dr. Gene Levinstein is comprised of highly medically trained licensed professionals who care about their client's individual needs.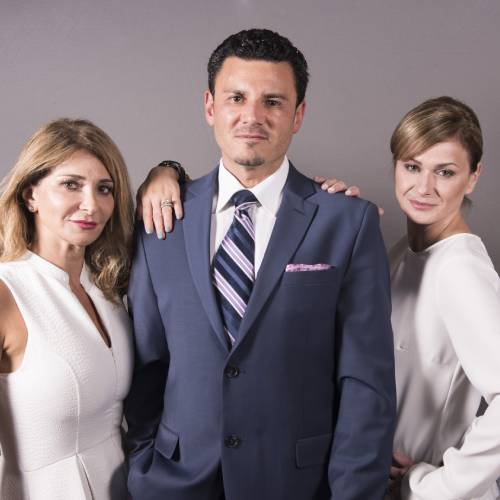 To schedule your consultation
We Would Love
to Meet You!
The first step is to request a consultation or appointment. Please fill out the form on this page or call us directly to get on the schedule. You can call our main office at (267) 899-5020.