If you're looking for a relaxing facial that can completely rejuvenate your skin with no downtime, you can't go wrong with the salt facial. It is a three-part facial that can address a variety of common skin concerns including fine lines, wrinkles, sun damage, age spots, and acne. Let's take a closer look at how the salt facial works and how it can improve your overall skin tone and texture.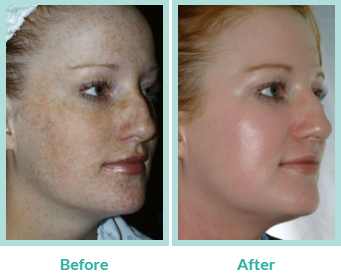 What is the Salt Facial?
While the salt facial is sure to help you relax, it can also deliver incredible results. When you come into our office for a salt facial, you can expect one of our expert providers to follow this three-step process.
Step 1: First, we'll exfoliate your skin with a natural sea salt scrub. This will reveal tighter, healthier skin and prepare it to be absorbed properly by skincare products.
Step 2: Then, we'll use ultrasound technology to expedite the production of healing and oxygen.
Step 3: Lastly, we'll incorporate LED phototherapy to treat acne, reduce pigmentation, remove redness, and promote the production of collagen.
After a salt facial, you'll be left with beautiful, immediate results. You'll likely notice a natural dewy glow and softer, clearer skin than you may be able to achieve with other facial treatments.
How Long Does the Salt Facial Take?
The salt facial can be completed in only 45 minutes with no downtime so you don't have to take a great deal of time away from your job and daily responsibilities. To enjoy optimal results and keep the top layer of your skin looking new and fresh, we recommend scheduling salt facials on a regular basis.
Good Candidates for a Salt Facial
The salt facial is a good option for men and women with a variety of common skin conditions. It can treat uneven skin tone, fine lines, wrinkles, damage, pigmentation, stretch marks, enlarged pores, and acne. In addition, it has the power to stimulate the production of collagen, tighten and lighten the skin, and heal post-surgery scars.
What an amazing experience. From the second I walked in the building I was welcomed and greeted by the very friendly staff. The place absolutely beautiful and it s nothing like I experienced before.

The first thing I had done it was a salt facial with a beautiful Lori. I don't want to go to every detail, but it felt great. My next stop was to meet nurse Jackie .

She took her time to listen my concerns and addressed every issue I had. I was surprised how careful she was and painless procedure was. I could see results right away. She asked me not to do more then I needed and did not push me to get something extra. Usually it s the other way around….. Thank you girls. See you soon !!